On May 24, 2022, intrepid San Juan paddler Susan Conrad began her epic, 1200 nautical mile solo kayak expedition journey from San Juan Island to Sitka, Alaska. We were there when she landed in Sidney, B.C. from Roche Harbour, San Juan Island, to begin this amazing trek.
When Susan first let us know she was doing her second long paddle through the Great Bear Rainforest, 10 years after her initial journey that led to the books Inside: One Woman's Journey Through the Inside Passage, and companion photo book Wildly Inside: A Visual Journey Through the Inside Passage, Pacific Wild staff were galvanized by an innovative idea.
What if, through our partnership with Canadian Mobile Satellite Internet company, Strigo, we could equip Susan with their portable, easy-to-use device and Canada-wide data coverage so she could send multimedia updates, in real-time, from the Great Bear Rainforest section of her journey?
This would accomplish two amazing goals: to connect Susan to people following her astonishing expedition and allow them to send her messages of encouragement during the journey, and illustrate why Marine Protected Areas are vital to Canada's climate change and biodiversity protection commitments through hands-on individual interaction in this incredible ecosystem.
Susan gave us an enthusiastic YES… and her life partner Ben Wells, a personal injury lawyer with a practice in Washington State, stepped forward and offered $10,000 as a match for donations to Pacific Wild's MPA campaign!
Thus began an amazing journey and collaboration, all documented in updates to a live ArcGIS Story Map produced by Pacific Wild's creative team.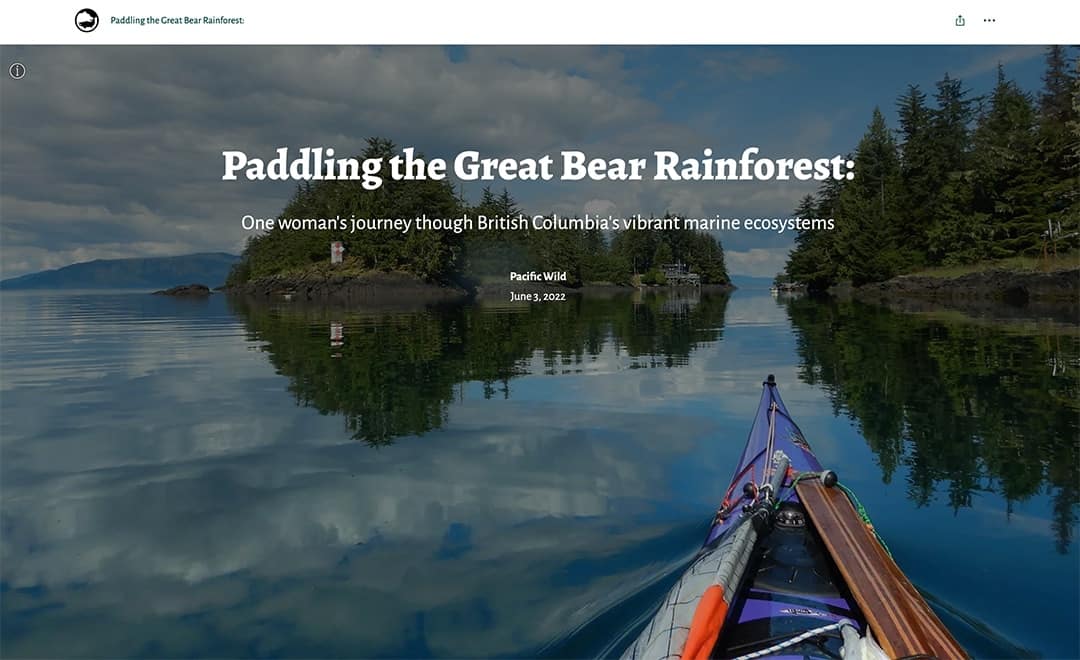 As Susan's Great Bear Rainforest leg of the San Juan to Sitka expedition began, the response from Pacific Wild and Susan and Ben's supporters blew us away. The match was met within the first few days. Wells Trumbull law partner Josh Trumbull stepped in with an additional $5,000, and several Pacific Wild donors also added to the match.
Every few days the MPA Match Campaign map expanded with video, audio and photographic content sent by Susan from remote locations along the central and north coast.
Susan completed her Great Bear Rainforest paddle section on June 21, enjoying full data coverage for the entire portion of her journey, chronicling wildlife encounters, weather events, and the challenges impossible to prepare for, like the day she headed for a GPS camp location provided by another paddler, only to discover the coordinates were incorrect. She paddled an additional 27 nautical miles that day to make it to a relatively safe camp location… and we heard about it in real-time.
The Great Bear Rainforest MPA matching donation campaign raised an incredible $43,113.
We're so grateful to Susan for her adventurous spirit, grit, and passion in sharing her journey and why it's so important to protect this critical part of the British Columbia coastline.
And to all of the people who supported the Marine Protected Areas matching fundraising campaign, original 10k donor Ben Wells has a message:
---
Are you thinking of creating an expedition fundraiser?
Whether you'd like to follow Susan and Ben's model of putting up a matching fund to match all donations made to your fundraiser, or if you'd just like to challenge your friends and family to donate to Pacific Wild during your adventure or event like Natalie Sanchez, we'd love to support you!